By Melanie Stewart
Earlier this summer, many of you completed a survey surrounding possible schedule changes for the 92 Express (runs from Village Point park and ride location to major stops along Dodge, including the Med Center).  Metro took the feedback from current or potential customers, and used that feedback to make some adjustments to the afternoon schedule.
Effective last week, the westbound afternoon buses will have the new departure times.  This bus will now be at the Med Center stop at 4:10, 4:40, 5:20, and 5:50pm.  The first two buses are 15 minutes earlier and the second two buses are 5 minutes earlier.  This should better distribute the crowded loads on the first bus in the afternoon, which often has standing room only while accommodating the large number of riders that preferred to retain two departure times after 5:00pm.
Five minutes of travel time has also been added to all westbound trips in the afternoon to more accurately reflect traffic conditions on the West Dodge Expressway.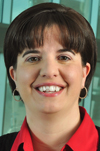 For more information visit ometro.com or download the new schedule.
Not currently registered for TravelSmart?  This option may make it easier for you.  The 92 Express stops at Village Point and First National Bank and you can park there for free and then ride the bus in for free too.  As it's an express route, it makes minimal stops to make your trip faster, and you can enjoy "free" time you would have spent driving doing something else.
Use local trails for walking, running, or biking?
The South Omaha Trail will close from S. 50th Street to S. 45th and Dayton Streets starting Monday, August 22nd for three weeks.  This is to remove silt and other debris that have clogged the existing swale forcing water onto the trail. There is a suggested detour using existing sidewalks.
The Keystone Trail will be closed at the "L" Street underpass starting on Wednesday, August 24th for three weeks.  The P-MRNRD will be addressing drainage and erosion issues under the bridge.  There is no detour posted for this closure.