Earth Month

Each year UNMC and Nebraska Medicine celebrate Earth Day by hosting a month's worth of events, know as Earth Month.  We aim to provide events that are fun, educational, improve health and always leave the earth a better place to live!  We also use this time to celebrate Nebraska's own Arbor Day!
Earth Month 2022
April 22 is Earth Day, and the Med Center is celebrating Earth Month all April long! Check out the list below to find out how you can participate in our Earth Month celebration. 
Drawdown EcoChallenge – Online All Month
Visit the website to pledge to take a simple action, including educating yourself on a new topic. Join our team to earn points, win prizes, and make the planet better (oh, and help us beat UNO's team!). Invite your friends and family to participate —the more, the merrier!
Higher Ed Roundtable – April 6, 6-7:30pm
Join this virtual webinar hosted by MCC/Creighton/UNMC/UNO to hear from local organizations (including Hillside Solutions, City Sprouts, MAPA, Metro Transit, Omaha Permaculture, and OPPD) about their programs and how you can get involved. Register here. 
Eating Healthy and Sustainably – April 12, 6-7:30pm
Virtual event with guests Peter Pellerito from the Center for Healthy Living and Lauren Monroe-Neal from Prepped by Lauren. Peter will give a presentation about eating a nutritious diet, followed by a cooking demo from Lauren about how to cook and eat healthy and sustainable meals. Register here and add the event to your calendar!
Personal Document Shredding and Electronic, Battery, and Techno Trash Recycling – Tuesday April 19, 10am-6pm and Wednesday April 20, 6am-2pm
Our annual event, hosted in collaboration with UNO. Seedlings and wildflower seed packets will also be available, courtesy of the NRD. Details on the website. Interested in volunteering at the event? Click here.
Arbor Day Tree Planting – April 29, 10am
Join us on April 29 at 10am to celebrate Arbor Day and our achievement of Tree Campus USA certification with a tree planting event. Saplings and seed packets available courtesy of NRD. Location will be the green space near Lot 8 and Lot 9. The specie of tree that will be planted is the Ginkgo biloba, commonly known as ginkgo or gingko (/ˈɡɪŋkoʊ, ˈɡɪŋkɡoʊ/ GINK-oh, –⁠goh)[1][2] also known as the maidenhair tree.[3]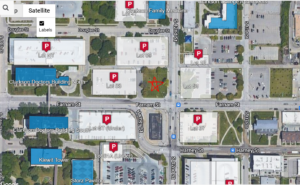 Earth Day Omaha Student Teambuilding Activity – April 23, 1-2:30pm
Join other students from UNO and Creighton at the Earth Day Omaha event to socialize, discuss, and play! Facilitators from UNO, UNMC, and Creighton will lead students through a series of low-risk activities designed to sharpen teambuilding skills and create fruitful dialogue about each organization's sustainability efforts and what they can do to improve their campuses. We'll meet by the grassy area behind the Children's Tent next to the outdoor workout station. Challenge yourself and your fellow students in various scenarios while being outdoors and attending Omaha's Earth Day celebration.  
Want to see what we've done in the past?