By Melanie Stewart
If you have been reading this column, we know you are already aware that the UNMC and Nebraska Medicine 42nd and Dewey campus is working to meet goals outlined in the Sustainability Master Plan (SMP).
As we move forward, it's important to provide you with a report on the progress we have made in all areas.  The next few articles that are written here will provide updates and explanations in all eight areas of focus.
Before we can do that, it's important to note that several baselines in the SMP have been updated.  I bring this up because we want to be 100% transparent about what is happening.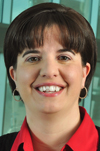 One of the goals of the SMP is to improve on-going data tracking.  The outcome of these improvements is more accurate data tracking and newly available data to inform progress toward meeting SMP goals. The baselines were changed because this new,  more accurate data recently became available.  Baseline changes were made in a unit of measure: the original water baseline showed that we used 206,130,100 gallons of water per year.  With improved data our new baseline is 225,164,787 gallons per year, a 9.2% increase.  The goal of reducing by 10% has not and will not change, but technically this makes the goal more difficult to achieve as the volume of water we need to "save" is larger.
New, more accurate data resulted in updates to five of the 2010 baselines: energy, emissions, water, materials, and recycling.  Transportation and engagement baselines remained the same. The food services goal does not have a specific baseline.
We've already provided you with the first update on energy, water, and emissions.
You can read about these achievements in UNMC Today and Nebraska Medicine NOW, as well as the Omaha World Herald.  In addition, the Chancellor's video with Chad Doane discusses why sustainability is important for us to attain as a school, business, healthcare provider, and community leader, and how important it is that we meet these specific goals.
This is a fantastic accomplishment and something for everyone to be proud of.  We will continue to strive to meet the secondary goals in these categories.