by Melanie Stewart
When you think of taking sustainable actions, your first thought may be to recycle.  A great step to take considering an average of 75% of household waste streams are recyclable.  The med center's stream is a little different, but we still should have no problem meeting our recycling goal of 35%.
I get a lot of questions about recycling, so the following information will help.  Please note this information does not include biohazardous/red bag waste which should be handled per policy.  Paper is handled the same at all UNMC/Nebraska Medicine locations, and we are working to standardize other recycling procedures to match the 42nd and Dewey campus.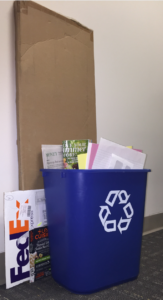 Blue Desk-Side Recycle Bins:  By UNMC and Nebraska Medicine Policy, ALL paper must go into the desk-side recycle bin (usually blue) and is shredded prior to recycling.  This bin should contain paper only.   All types of
paper including newspaper, envelopes, post-its, etc. can be placed in this container along with confidential/protected information.  EVS employees are background-checked and trained to handle this waste; departmental shredding is not necessary and it wastes time, money, and resources.
Cardboard: Break down all cardboard boxes, place between the wall and your other containers.  This includes all grades of cardboard—frozen meal boxes to corrugated.  No cardboard should be placed in blue (paper) bins.  Hanging file folders are considered cardboard–but if they are still in usable shape, post them on the supply exchange!
Metal/Plastic Recycling Bins: The Med Center recycles metal and plastic together in the same containers. Most of these are tall green rectangular bins with a laminated sign indicating they are for metal and plastic.  Please use this container for any metal (except aluminum foil), and for rigid plastic.  Rigid plastic must hold shape, but plastic number does not matter; so water bottles, yogurt cups, frozen meal trays, straws – YES.  Plastic bags, cellophane, bubble wrap – NO.  Please do not place any glass, Styrofoam, plastic bags, or paper into these containers.
Non-Recyclable Trash: Any item that is not recyclable should be placed in trash cans.  The larger containers are lined with a plastic bag, and are found in many locations.  Please use these containers for all trash.  Your deskside container most likely does not have a liner, so please only place 'dry' trash in that.  "Wet" trash—food, apple cores, gum, etc. must go in trash containers with a liner.
Techno-Trash: Work related discs, tapes, and CD/DVDs can also be shredded and then recycled; please contact EVS at 9-4073 if you have items.
Books: Any books you think people may like to read can be placed on the Little Free Library, located outside the Cornerstone Giftshop on the 2nd floor of the DOC.  If shelves are full or you have a large donation, please contact livegreen@unmc.edu , do not leave them on the ground around the shelf.  Also consider donating books or recent magazines to volunteer services.  Textbooks/reference books/journals, can also be donated (and reused!) to Better World Books.  Books go to developing nations to help train medical professionals, no book is too old.  Donation boxes are located outside the Bookstore in the Student Life Center and the C-Store in the Michael Sorrell Center.
Thanks for taking the effort to sort your waste!  Not only are you following campus policy, but you are helping to save the campus money, decreasing pollution, and helping to meet the goals of the Sustainability Master Plan. Disposing of items in the proper stream saves money as we pay less to remove recyclables from campus than we do trash.  Remember, using less and reusing are always the best options!