As you may know, last year LiveGreen sponsored the construction of a Little Free Library.
The Little Free Library was constructed as an Eagle Scout project for Matthew Rothgeb, son of UNMC's Kim Rothgeb. He collected broken pallets from campus, sanded them down, and constructed a library that has a roof made of repurposed Scrabble boards and tiles.
Our Little Free Library is located next to Cornerstone Gifts in the second-floor atrium of the Durham Outpatient Center.
Matthew also collected more than 1,500 books to help us keep it well stocked.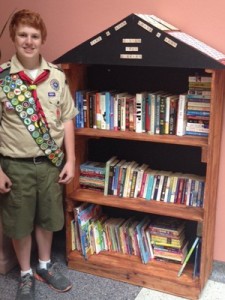 You can leave a book or take a book. The sharing of books has been a huge success. Many of you have borrowed books and returned them, brought some from home to donate, and collected them within your area at work.
The downside of this, if you will, is that we are now out of books. The books that are on the Little Free Library now are the end of our stock.
So, if you have books at home that are collecting dust, your kids have outgrown, or you have already read, consider bringing them here. This is a great way to:
Promote reading for all ages.
Give visitors in waiting rooms a welcome distraction.
Work on your New Year's resolution to organize your house.
Find a book you've never heard of.
Learn something new.
Even Mark Zuckerberg has resolved to read more books in 2015, saying "I've found reading books to be very intellectually fulfilling. Books allow you to fully explore a topic and immerse yourself in a deeper way than most media today."
Books can be left at the library at any time, but please leave them on a shelf. They cannot go on the floor around the library, even if they are in boxes. If the shelves are full, please contact LiveGreen and we will get them from you.
Have a lot of books to bring in at once? Give us some advance notice and we'll meet you with a cart and find a place to store them until space opens up.
Please keep in mind the Little Free Library is for books, not movies, periodicals, magazines or pamphlets/brochures.