After a rainy week, it seems odd to talk about water conservation but we often forget how dependent on water we are and how scarce it can be. It's easy to turn on the faucet and get fresh, clean water, but imagine how much less water you would use if you had to haul it from a nearby reservoir, or wait in line to receive your ration.
It can be easy to dismiss that notion as we live in the developed world, but the state of California is in such a water crisis that they just announced mandatory water restrictions effective June 1, with some communities being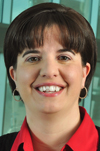 forced to cut water usage by 36 percent. Given that a sizable portion of the U.S. economy, and probably a sizable portion of your dinner plate, comes from California agriculture, their water issues may affect us in a very real way. If that is not close enough to home, did you know most of us use 20 gallons of water per shower? Or that the EPA estimates Nebraska to be one of the top seven states for water use per capita?
Thankfully, there are some relatively simple things you can do to be conscious of the water you are using/wasting that can have a sizable impact.
Can you waste less water? Place a pitcher in the sink/shower, fill it while waiting for hot water, and use that to water plants.
Buy faucets and fixtures with the Water Sense label.
Take a five-minute shower. Don't know how to time yourself? Check out the box below for a list of five-minute-long songs you can listen to while you shower.
Turn off the faucet when you brush your teeth.
Turn the faucet on part way, only using the pressure you need.
Check your sprinkler system. Don't run it when it's raining. Make sure programs are correct. Check sprinkler heads to make sure they are watering your grass and not concrete.
Or forgo the grass! Look into other low-water-use plants and groundcover; consider xeriscaping.
Build a rain barrel. It's easy, inexpensive, and provides free water for your garden or to wash your car. Did you know that more than 600 gallons of water will run off a 1,000- square-foot roof during a 1-inch rain?
Five-minute songs

Looking for help to time your shower? Cue up one of these songs:

Aerosmith, "Sweet Emotion"
The Beatles, "While My Guitar Gently Weeps"
Beastie Boys, "Body Movin'"
Blake Shelton, "Boys 'Round Here"
Coldplay, "Clocks"
Creedence Clearwater Revival, "Born on the Bayou"
Dave Matthews Band, "Tripping Billies"
Flock of Seagulls, "I Ran"
Fred Hammond, "No Weapon"
Jefferson Starship, "We Built This City on Rock & Roll"
Kanye West, "Stronger"
Lady Gaga, "You and I"
Lynard Skynard, "Sweet Home Alabama"
Michael Jackson, "Thriller"
Paul Simon, " You Can Call Me Al"
U2, "Walk On"

Have a 5 minute song you'd like to recommend?  Feel free to leave it in the comments section below!