On Wednesday, Metro unveiled MyRide OMA, a bus tracking website that provides bus arrival information and an upgraded trip planner. Click on the link, select your route and you can see where your bus is in real time.  The site will also let you see the bus identification number to make it easier to identify on the street, should your street have multiple routes on it.  You can also click on a stop to see which corner of the intersection you need to be at and the time the next 3 buses will arrive, which is updated in real time as well.
Metro is testing website features and asking riders to provide feedback on their experience using it.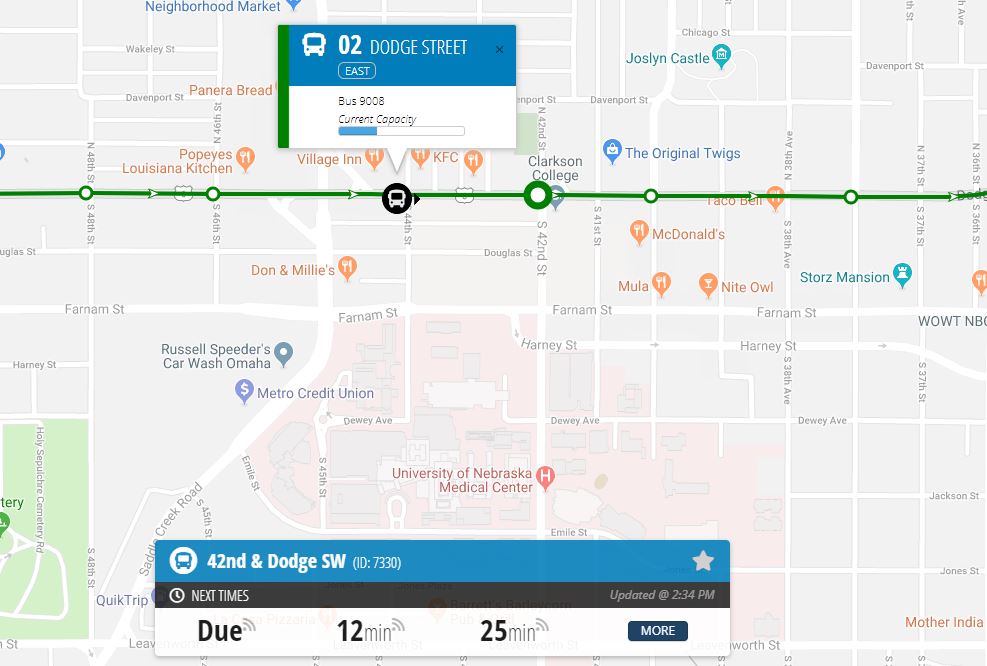 "This system will be great for Omaha and Metro alike. Our riders will have access to real-time information, and we will have valuable data at our fingertips, which will help us make our system more efficient," said Curt Simon, Metro's executive director.
There are more features to come, and a mobile app is in development, though the website is mobile-friendly.
"It's been a long process as we upgrade our fleet, and we're grateful for our community's patience and input," Simon said. "This system is the next step toward better transit in Omaha."
MyRide OMA accompanies a variety of other improvements for Metro this year, including new buses and paratransit vans, new bus shelters, free onboard Wi-Fi, and ORBT, Omaha's first rapid transit system.
Don't forget, all UNMC, Nebraska Medicine, and Clarkson College students and colleagues at the 42nd/Dewey and ECCP locations can commute to and from work on the bus for free as part of TravelSmart.  TravelSmart also provides a free emergency ride home if needed, and daily rate flexible parking should you choose to give up your parking permit, which is not required.  If you have questions on a route, trip planning, or any aspect of TravelSmart, please email TravelSmart@unmc.edu