By Melanie Stewart
Great work everybody!
Nebraska Medicine and the University of Nebraska Medical Center have been named a top nationwide collector of writing instruments in the Writing Instrument Recycling Program, a free, national recycling program created by TerraCycle®. By collecting an assortment of writing instruments like pens, mechanical pencils, markers, permanent markers and highlighters of all brands, UNMC and Nebraska Medicine has helped to divert 1,852 qualified units of writing instruments from local landfills this year alone.
Who can forget our "pen angel" made by Anne Rivas while we packed up our largest shipment to date?!?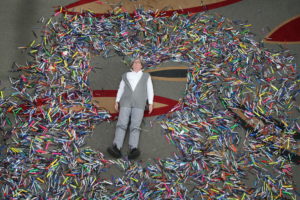 "We have been upcycling defunct writing instruments through Terracycle since 2012 and are honored to be a top collector in the nation," said Melanie Stewart, Sustainability Manager for Nebraska Medicine and UNMC.  "We have taken great strides in sustainability on campus and are so proud that we have been able to divert something not typically recyclable away from the landfill."
For every writing instrument recycled through the recycling program, we earn points that can be redeemed as a cash donation for us to further sustainability efforts on campus. TerraCycle recycles the traditionally non-recyclable waste into new plastic products such as park benches and picnic tables.
"Becoming a top collector in a TerraCycle recycling program shows great dedication to sustainability," said TerraCycle CEO Tom Szaky. "Without the hard work and commitment of the people who make the programs successful, we wouldn't be able to keep as much waste from ending up in landfills."
For more information about the on campus program, click here.
Curious about TerraCycle?
TerraCycle, Inc., is the world's leader in the collection and repurposing of hard-to-recycle post-consumer waste, ranging from used chip bags to coffee capsules to cigarette butts.  The waste is collected through free, national, brand-funded platforms called "Brigades," as well as various consumer and government-funded models.  The collected waste is reused, upcycled or recycled into a variety of affordable, sustainable consumer products and industrial applications.  Each year, across 21 countries, TerraCycle collects and repurposes billions of pieces of waste, donating millions of dollars to schools and charities in the process. To learn more about TerraCycle or get your household involved in one of their recycling programs, please visit www.terracycle.com.