By Melanie Stewart
Whether you are a TravelSmartie or somebody that uses Daily Rate Flex Parking every now and then, we need to advise you of two changes:
Construction to lot 50 was completed which opened up the lowest level, formerly lot 59.  The previous Daily Rate Flex Parking stalls have been restored:  Twenty covered stalls are located on the lowest level against the far north wall, on the western end.  Please note: not all stalls on the northern wall are for Daily Rate Flex Parking, only the first 20 stalls starting from the western edge.  Please pay attention to posted signs.  The lowest level of lot 50 is easily accessible by Jones Street from Saddle Creek or Leavenworth, but with the completed construction can also be accessed from the upper levels of lot 50.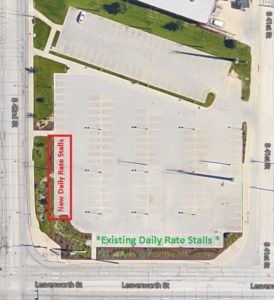 Due to high usage and demand, Daily Rate Flexible Parking in Lot 36 has been expanded to include an additional 11 parking stalls. These stalls are located on the west side of Lot 36, facing Charlie Graham auto, from the southwest corner to the sidewalk.  See picture above.  These stalls have been designated with signage, but will not be restriped a different color or numbered as we now track usage by license plate number.  The existing 18 stalls facing Leavenworth are still available.
No changes have been made to Daily Rate Flexible Parking in lot 55 and it is available for use.
For and updated map or more information on Daily Rate parking, please visit the TravelSmart website.