Lauren Klingemann loves using Heartland Bike Share and wants other students and staff to experience the same joy she does riding the bikes around campus.
The second-year student and M1 wellness chair has been at UNMC since August 2022. She enjoys Heartland B-Cycle because she has easy access to a bike and can ride across campus or to different places around Omaha during the week.
"I really enjoy biking on different trails throughout Omaha," she said. "But transporting my personal bike is often a hassle."
The med center partners with Heartland Bike Share to offer free, annual passes to students, faculty and staff. At the beginning of the 2023 fall semester, Parking Services, the UNMC Office of Sustainability and the Nebraska Public Health Laboratory joined together to distribute more than 200 passes.
A limited number still are remaining, so sign up today to get a free pass. Click here to find detailed instructions for how to sign up for TravelSmart to get a promo code and activate a Heartland B-cycle membership.
By getting a pass, users have access to Heartland B-Cycle's 400 electric-assist bikes and 80-plus stations, including several stations around the UNMC campus:
40th and Leavenworth streets
39th and Jackson streets
42nd Street and Dewey Avenue
45th and Emile streets
44th and Farnam streets
40th and Farnam streets
"Because B-cycles are widely available throughout Omaha," Klingemann said, "having access to a free pass allows me to make the spontaneous decision to go on a bike ride basically anywhere I am at throughout the city."
These interconnected stations throughout the city have been useful to Klingemann and even have helped her encourage her dad, a pharmacist on campus, to get a pass and ride B-Cycles all over Omaha. Omaha's system of trails and bike infrastructure gives students, staff, faculty and colleagues another means of travel that is convenient, safe and more sustainable.
 Klingemann also wants to emphasize that biking is just a great time in and of itself.  
"My biggest advice would be to download the app and set up your free annual pass before you leave to ride the first time. I also strongly encourage you to go with friends. It makes biking even more enjoyable, and with the free pass, it gives you an opportunity to be active and have fun with your classmates or co-workers."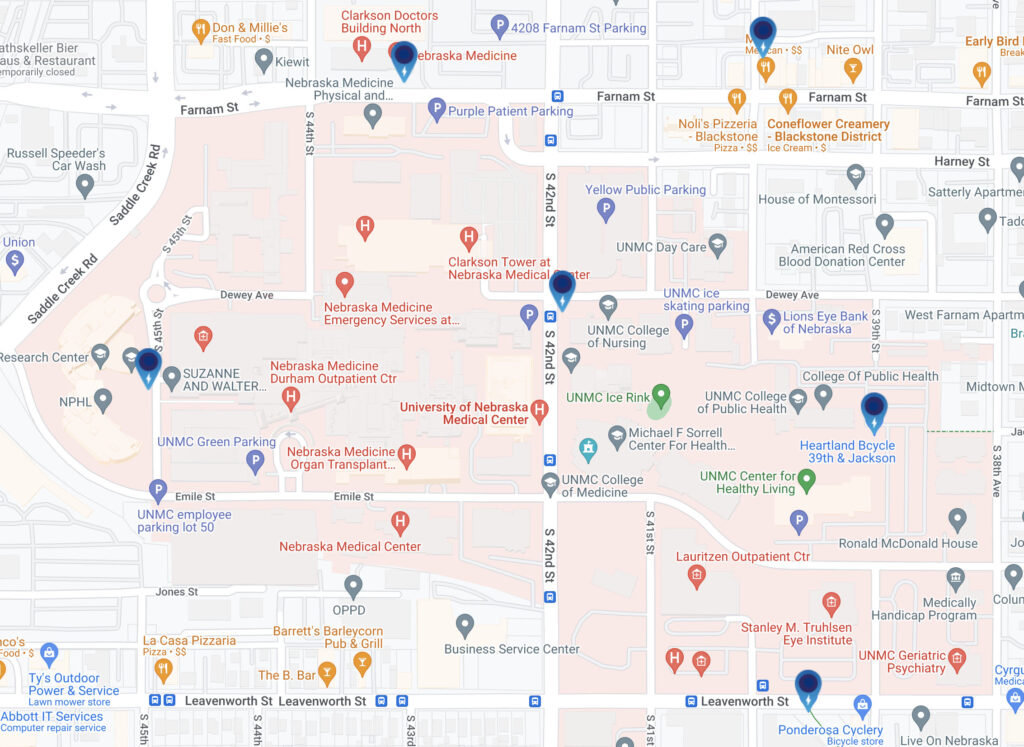 Map of B-Cycle locations on the med center campus