Last fall we started a process to provide more alternatives to transport people to work in ways other than a single occupant vehicle.  As we work on these Active Transportation options, the most common concern we hear revolves around the cost of parking: Why do we have to pay to park here?  Where does all that money go?
Seemed like this should be something I should know, so I decided to find out.
As it turns out Parking does not generate profit.  Yes, money is collected but it actually covers a variety of expenses.  I was shocked to learn that a major snowstorm can cost us $45,000 or more!  While some businesses can wait until it stops snowing to clear snow, we are 24/7 and for your safety sidewalks and lots are continuously and repeatedly cleared and salted, while snow from parking garages actually has to be hauled off site.
Here's a list of where your parking fee goes: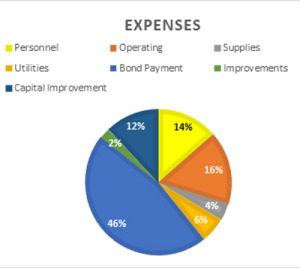 Bond Payment; paying off loans and interest for the construction of parking garages, 46%.
Operating Expenses; snow removal, jumpstarts, 16%
Personnel; staffing for Parking office and enforcement, 14%
Utilities; water and electricity in parking lots and garages 6%
Supplies; fuel, signage, hardware, elevators, mandatory fire alarm testing, 4%
Improvements; resurfacing, minor repairs, lighting upgrades, 2%
Capital Improvement; whatever is leftover is put into Capital Improvement to cover future major expenses or overages, averages 12%. This covers anything from the unexpected demo of Lot 4, excessive snow, expansion joint repair, or expenses related to vandalism.  Collecting a little bit at a time prevents them from having to increase parking fees by a large amount anytime something major happens.  All money goes back into parking infrastructure, it doesn't cover anything outside of that.  If this account has more money than it needs, your parking rates may stay the same.  If not, they could go up.
So this begs the question, how do other places in town handle parking if they don't charge their employees to park?  Answer: they do, they just don't tell them.  If parking is owned or leased by an employer, the employee helps to pay for expenses.  It may not be a line-item on the pay stub, but they pay for it with fewer vacation days, fewer benefits, smaller raises, something.  We have an advantage because we have a choice.  If I don't want to pay, I don't park and that's money I save.
Interested in saving money?  We'll be rolling out multiple options this spring that will get you to campus while saving you money.